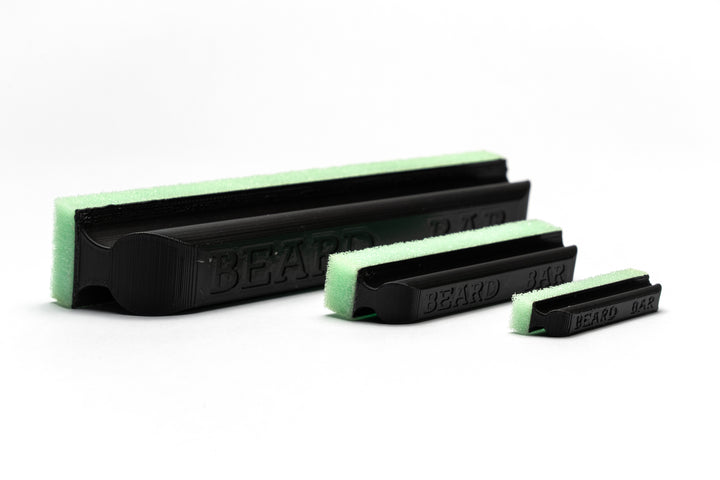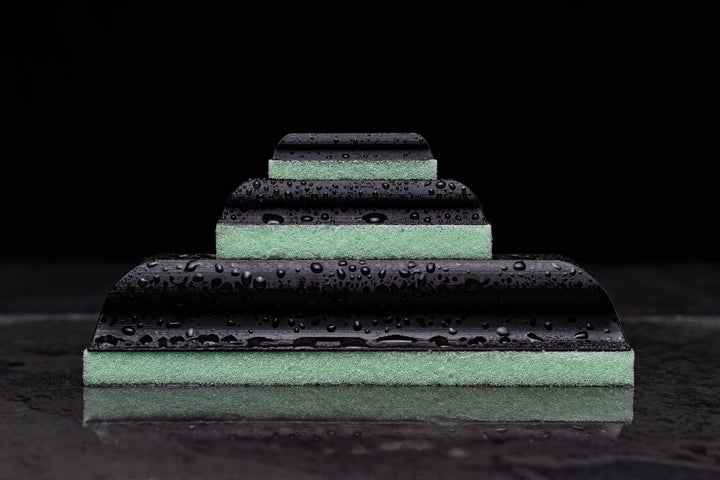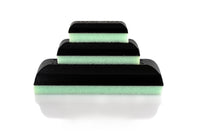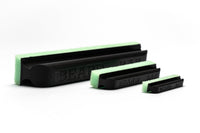 Family Pack (3) - Mat's Beard Bar®
Overview
The

first

 B

eard Bar®

designed to clean up beard trimmings!
All three sizes of Mat's Beard Bar®!
The perfect gift for that man with a great beard or yourself! The antimicrobial sponge is specifically made to clean up all beard trimmings after a shave. Simply dampen the sponge, wipe until clean and rinse off when done. Its smooth and simple design fits well onto vanities or in a drawer.
Recommended to replace every 6-12 months depending on how often it is used!
Length x Width x Height:
Original-
4.75" x 0.75" x 1.25"
Travel- 3" x 0.5" x 1"
Mini- 2" x 0.4" x 0.6"
ZERO BEARD TRIMMINGS AROUND SINKS: Mat's Beard Bar® is the quickest and most effective way to clean beard trimmings and beard hairs from sinks and counters after a man shaves.
INSTANT RESULTS: Simply wet the Beard Bar® under the sink, rinse out excess water on the side of the sink, sweep the Beard Bar® along surfaces around the sink and counter, and finally rinse out beard trimmings in the sink or Beard Bar Holder.
BUILT FOR EFFICIENCY: Silly alternatives make you reach under the sink, and attach yourself to the mirror. The Beard Bar® was designed with ease in mind. Leave it out next to your sink. This is a great men's grooming gift for any man, whether it is a holiday gift or a birthday gift.
AESTHETIC VISUAL REMINDER: The sleek and prominent design fits any bathroom sink and reminds anyone to clean up after shaving. Keep it next to your sink to remind you to always clean up after shaving. Now you can get rid of those beard aprons, beard bibs, or newspaper rolls tucked under that sink.
Family Pack (3) - Mat's Beard Bar
Brilliant
Great Products
bought for my partner
No more beard hair in my sink!
And really quick delivery to the UK!
Family Pack (3)
Works great! Don't normally write reviews and saw this on tik tok, was wracking my brain to find a decent gift and this actually turned out pretty great! Bought twice from this company so far.
Great value!
Absolutely love the 3 sizes! The mini fits perfectly in those hard to reach areas around your sink and picks up every teeny hair! 10/10 would highly recommend for every man in your life! I also gifted one to my hair stylist and she is hooked!
Not what I expected
These were requested as a Christmas gift, so I went along with buying them. It is not what I expected at all. It's a piece of sponge stuck to a piece of plastic. I feel like I wasted $26 on a 3 pack of these things.
What's the point
I was excited about this product, but as yet can't say that it works any better than a bit of paper towel or toilet paper. The beard hairs also seem to stick to it so it does not remain clean.
Excellent
This makes my wife happy as I don't leave a mess when I want to groom myself.
Family Pack (3) - Mat's Beard Bar
Just what I needed!
For years I would wipe it vacuum the sink after trimming my beard. Now these save extra towels and time. They work great! Thank you!