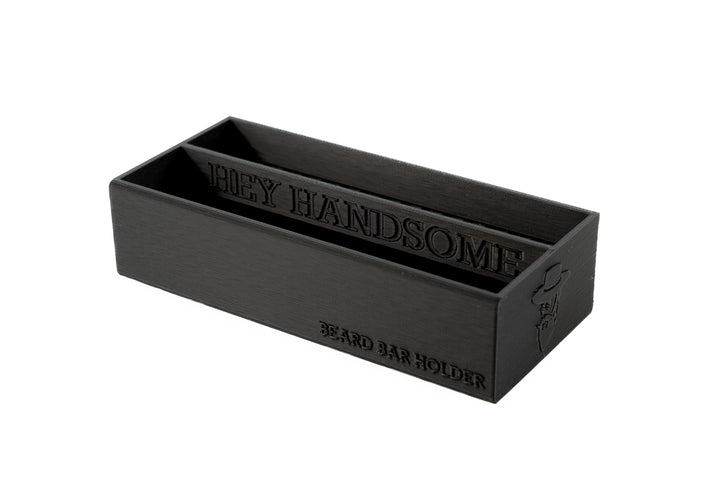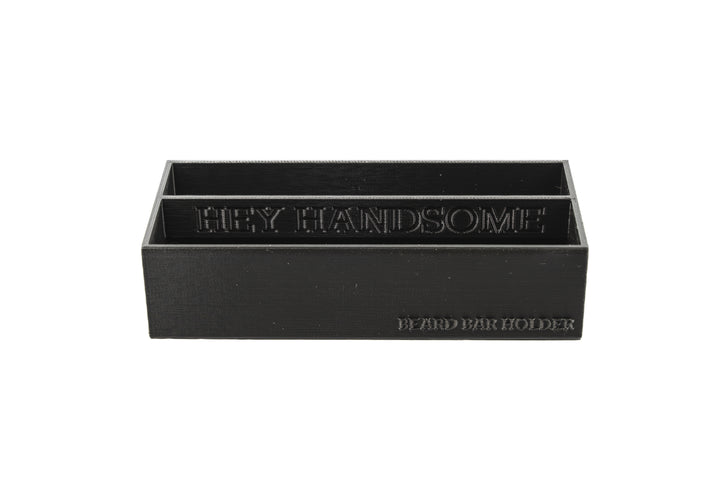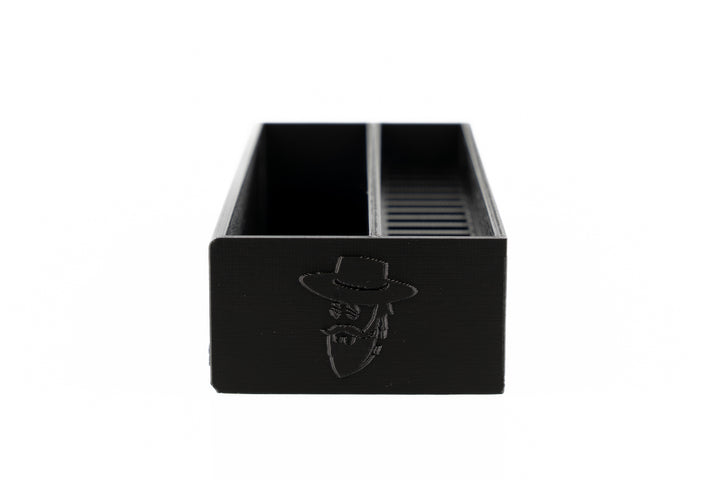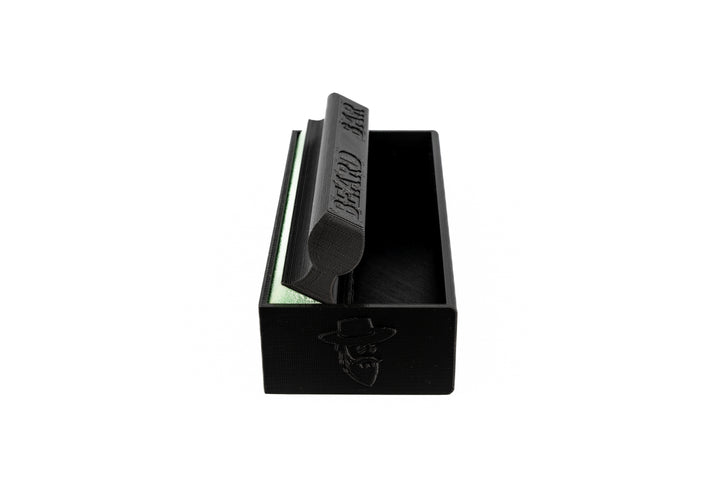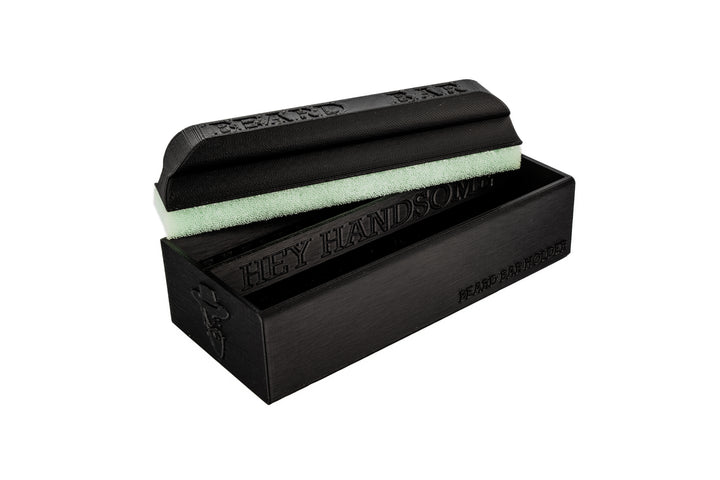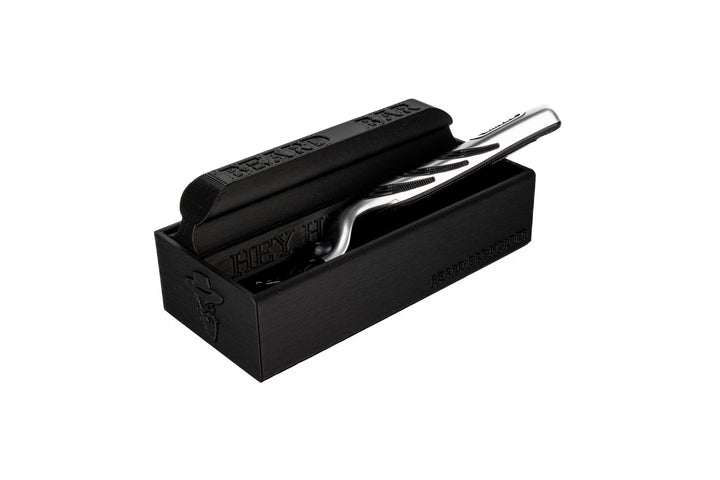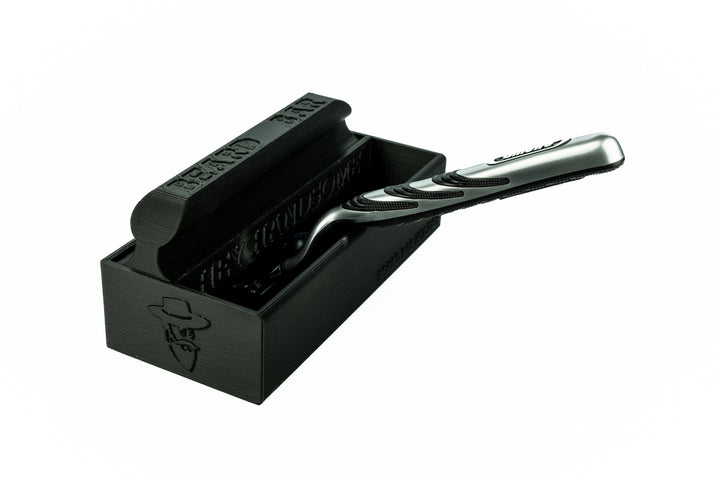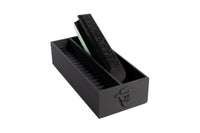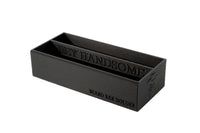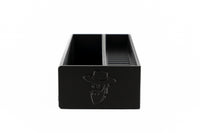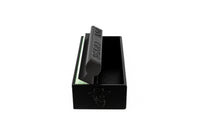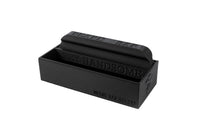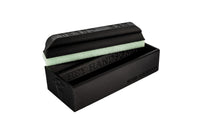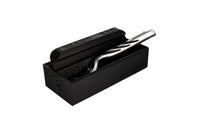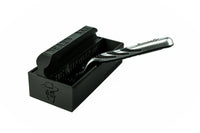 Mat's Beard Bar® Holder + 1 Original Beard Bar®
Overview
The

 perfect tool to complement

 the Beard Bar!
The perfect gift for that man with a great beard or yourself! The sponge is specifically made to clean up all beard trimmings after a shave. Simply dampen the sponge, wipe until clean and rinse off when done. Its smooth and simple design fits well onto vanities or in a drawer. 
Keep the Beard Bar® hidden and dry when not used! The Beard Bar® Holder also doubles as a water container to rinse out your razor when shaving. Simply fill up the container halfway with water and periodically clean off the razor of beard hairs as you shave! Once done flush down the toilet and set it back for next time's use!
Recommended to replace it every 6-12 months depending on how often it is used!
Length x Width x Height:
Beard Bar®: 4.75" x 0.75" x 1.25"
Holder: 5" x 2.25" x 1.25"
ZERO BEARD TRIMMINGS AROUND SINKS: Mat's Beard Bar® is the quickest and most effective way to clean beard trimmings and beard hairs from sinks and counters after a man shaves.
INSTANT RESULTS: Simply wet the Beard Bar® under the sink, rinse out excess water on the side of the sink, sweep the Beard Bar® along surfaces around the sink and counter, and finally rinse out beard trimmings in the sink or Beard Bar Holder.
BUILT FOR EFFICIENCY: Silly alternatives make you reach under the sink, and attach yourself to the mirror. The Beard Bar® was designed with ease in mind. Leave it out next to your sink. This is a great men's grooming gift for any man, whether it is a holiday gift or a birthday gift.
AESTHETIC VISUAL REMINDER: The sleek and prominent design fits any bathroom sink and reminds anyone to clean up after shaving. Keep it next to your sink to remind you to always clean up after shaving. Now you can get rid of those beard aprons, beard bibs, or newspaper rolls tucked under that sink.
Amazing product & service!
Will repurchase for sure. Excellent customer service too.
Easy to use and awesome customer service!
I bought the beard bar for my fiancé for his birthday and he loves it!! Finally no more hairs left around the sink! Very sturdy and well made too. The customer service for this company is also truly awesome. The beard bar got lost in the mail, and after 7 days of no updates for shipping, I emailed customer service (Mat) and they sent a new one out free of charge!
Bad
Used once. Beard trimmings become attached and are difficult to wash off. Not a great purchase.
Easy to use beard trimmings clean-up tool
The beard bar is great for an easier way of cleaning beard trimming without wasting paper towels. Works best on smoother surfaces. If you have a tile counter, the grout lines and porous tile may work against the foam material.
This is sweet
Works awesome, thank you for making such a great product!
Awesome
Love this product! My husbands whiskers are so easily cleaned up!
Mat's Beard Bar Holder + 1 Original Beard Bar
Simple but AWESOME
This product is so simple but was LIFE CHANGING in our house. It used to drive me INSANE when my husband shaved because his beard hair ALWAYS ended up ALL over the sink. Now, I don't even have to ask him to wipe it up because he loves the Beard Bar! This thing is saving the sanity of wives everywhere lol