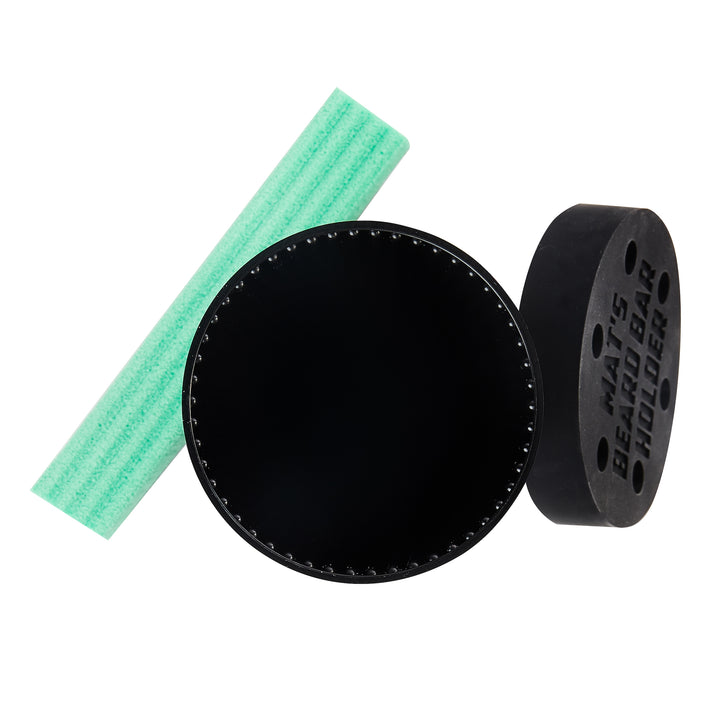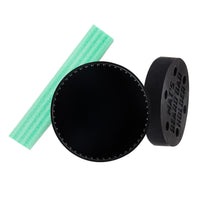 Mat's Beard Bar & Holder Pro v2.0 (Most Popular)
Overview
The 2nd Version of the first Beard Bar ® designed to clean up beard trimmings! The perfect gift for that man with a great beard or yourself! The custom designed sponge is specifically made to clean up all beard trimmings after a shave. Simply dampen the sponge, wipe until clean and rinse off when done. Its smooth and simple design fits well onto vanities or in a drawer. Recommended to replace the Beard Bar® every 6-12 months depending on how often it is used!
New Benefits in Version 2.0!
[NEW] Flexible: The Beard Bar® is now flexible and curves around sinks!
[NEW] Even Less Hair Stuck In Foam: A new thicker foam means dramatically fewer pesky hairs caught in the foam for faster and easier cleaning!
[NEW] Upgraded Manufacturing: Smoother, more ergonomic, and a better gripped handle for a more satisfying clean-up experience!
[NEW] More Absorbent: Our new foam holds up to 25 times its own weight in water, leaving less water behind!
Plus all of the Best Parts of Version 1.0
ZERO BEARD TRIMMINGS AROUND SINKS: Mat's Beard Bar® is the quickest and most effective way to clean beard trimmings and beard hairs from sinks and counters after a man shaves.
INSTANT RESULTS: Simply wet the Beard Bar® under the sink, rinse out excess water on the side of the sink, sweep the Beard Bar® along surfaces around the sink and counter, and finally rinse out beard trimmings in the sink or Beard Bar Holder.
BUILT FOR EFFICIENCY: Silly alternatives make you reach under the sink, and attach yourself to the mirror. The Beard Bar® was designed with ease in mind. Leave it out next to your sink. This is a great men's grooming gift for any man, whether it is a holiday gift or a birthday gift.
AESTHETIC VISUAL REMINDER: The sleek and prominent design fits any bathroom sink and reminds anyone to clean up after shaving. Keep it next to your sink to remind you to always clean up after shaving. Now you can get rid of those beard aprons, beard bibs, or newspaper rolls tucked under that sink.
This is the Truth
Took me literally 5 seconds to Wipe the Counter and Sink Basin and one swipe per area left that specific spot spotless usually I would use toilet paper and it was wipe after wipe after wipe just to perfect the area.. This isn't the case with Mats Beard Bar.. This is something every Man needs weather your trimming your Beard,Hair or Basketballs lol
Loved it!
Definitely swept up all the pesky hairs. Highly recommend
1st use amazed
Used it after buying it and clean up was so easy. Now my only review will be a further one to see how well it holds up and mildew free it remains but the reviews are why I bought it so I'm excited! 😁
Works great and has held up for over a year.
This is a really good product
I love this product 10/10 recommend!!
Husband loved his Christmas present
Delivery of product
Well, I am very happy that we were able to chat on the phone during this order process. Through the package getting delayed, you were there to comfort my emotions, and let me know it would definitely arrive. Once, the package made it to my daughter's home, she wrapped it and put it under the tree. When we did our gift opening via FaceTime, he opened it and was like "thank you Disnee" and turned to my daughter, his wife and said, I was wondering why it wasn't in my gifts from my Christmas list lol. Anyways, he loves it very much and uses it often. Thank you again Matt. Will do business with you again very soon.
Deceptively convenient
You would think "this is such a silly thing," but it's just what I was looking for honestly. I like to clean up after myself and this does just that. I could have probably just bought a sponge but there's something about this that makes it better.
AMAZING
I bought this for my boyfriend and he uses it all the time. It is amazing and picks up everything. Very happy with this purchase.
So easy to use
The beard bar makes cleaning up the annoying little hairs, very easy. I don't have to worry about wasting wipes.